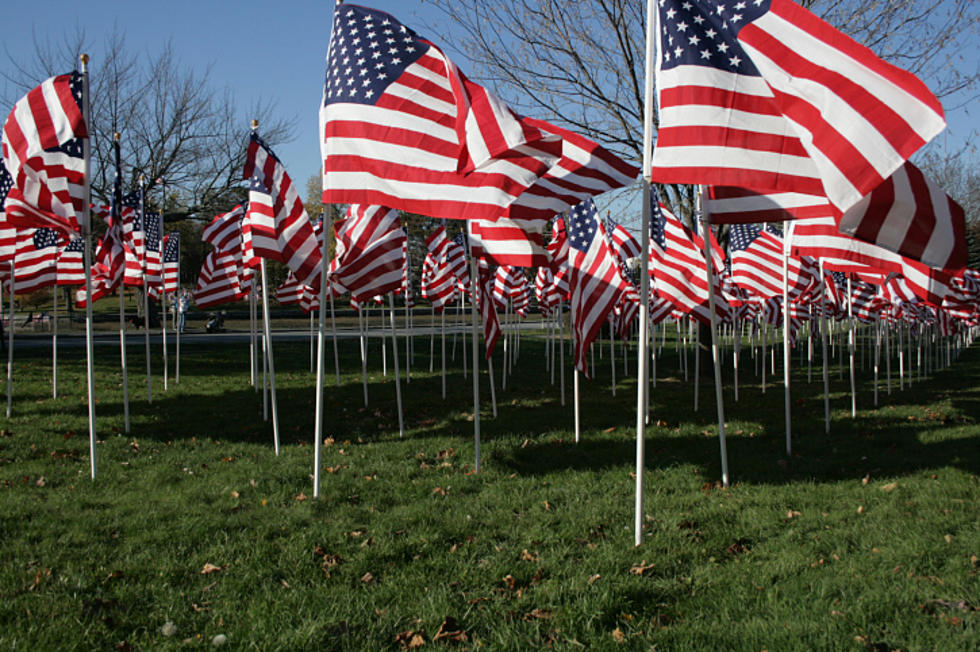 Memorial Day Happenings In The Berkshires
Richard Lockyer
Memorial Day is being celebrated on Monday, May 29th as we recognize the sacrifices of our nation's servicemen and women. It started as a day to decorate the graves of fallen Civil War soldiers in the south and since then, many states adopted May 30th as Decoration Day to commemorate all U.S. soldiers after World War I. This was the official observance prior to when Congress signed a measure in 1971 which moved the federal holiday on the last Monday in May. (I remember the 30th was the day we were off from school, but this idea of an extended weekend has been rule of thumb for decades)
Here are the closures throughout Berkshire County, Massachusetts, eastern New York and northwestern Connecticut:
Federal, state and local offices. There will be no mail delivery.
Banks and Public libraries
Public colleges and schools, most private schools
Most offices and businesses
BRTA is not running. Regular service resumes on Tuesday, May 30th.
Most retail outlets, grocery stores, supermarkets, convenience stores will be OPEN
Restaurants and bars have the option of serving their loyal customers. Call ahead of time for confirmation.
Memorial Day is NOT just a day off. It is a time to reflect and remember those who made the ultimate sacrifice to keep us free each and every day. The best way to show your support and honor those men and women in uniform, past and present is to attend one of our area parades as we have an assortment of locations where observances will be held. The following list of parades will take place on Monday, May 29th, unless otherwise noted:
Adams
The parade will step off at 10 a.m. from the Memorial Building and concludes with a ceremony at the Maple Street Cemetery. The usual route will be followed: Columbia Street to Hoosac Street, Hoosac Street to Summer Street, Center Street to Park Street. Lineup begins at 8:30. The American Legion Post 160 Honor Guard will participate. Music will be provided by the Hoosac Valley High School band and the Berkshire Highlanders.
Becket
The parade starts at 10:30 a.m. at North Becket Cemetery, ending at Ballou Park for ceremonies at 11. Lineup begins at 10.
Cheshire
Parade steps off from School Street at 1 p.m. and will include five floats this year; Children wishing to ride their bikes in the parade should meet at Cheshire Elementary School by no later than 12:30pm. They can decorate the bikes with red, white and blue and wear a helmet. The Hoosac Valley High School band will march as will the Cheshire Little League, ACS Softball players, several banners, some surprises, and of course, the Shriners. A ceremony will follow at the memorial at Town Hall
Clarksburg
Peter A. Cook  VFW. Post 9144 will hold its annual Memorial Day services at 10 a.m. on Sunday, May 28, on the front lawn at Town Hall on River Road.
Dalton
The parade steps off at 9:30 from the corner of North and Main Street to the Main Street Cemetery for a ceremony at the Mound of the Unknown Dead at 10 a.m. Participants include local and state officials, veterans groups, color guards from the VFW and American Legion, Boy and Cub Scouts, Girl Scouts and Brownies, Explorers, Nessacus Middle School band, sheriff's department honor guard, cheerleaders, plus local Fire and Police departments.
Egremont
Begins at 12:30 p.m. on Monday afternoon at the South Egremont fire station, and the parade marches to the village green, where a short ceremony will be conducted.
Great Barrington
Area veteran groups will not present a Memorial Day parade this year. They noted declining participation among veterans in recent years as influencing their decision to suspend parade activities.
Lanesborough
The parade will start at 2 p.m. on Sunday, May 28, and concludes with a ceremony at Center Cemetery, including a keynote address, the playing of taps and a 21 gun salute by the Dalton Rifle Team. A reception will follow.
Lee
The parade assembles in the downtown area at 10 a.m.
Lenox
The parade will begin at noon on Monday at the Church on the Hill and then proceeds to the War Monument for a ceremony and concludes at St. Anne's Cemetery. Any veterans wishing to march should be at the Church on the Hill by 11:45am. Veterans who may need a ride can contact Sean Ward at 413-822-4343.
Lenox Dale
The parade sponsored by the Lenox Dale Fire Company will begin at 8 a.m. at Veterans Memorial Park on Walker Street and will proceed to St. Vincent de Paul Church for a Mass conducted by the Rev. Msgr. John Bonzagni. The parade will then continue through the village back to the park, where concluding services will be held.
North Adams
Parade starts promptly at 10am at the American Legion and marches to the Veterans Memorial, where the main ceremony will take place. Participants are asked to be at the American Legion at 9;
Pittsfield
The parade begins at 9am, proceeding from City Hall to Fenn, North and Wahconah streets, then to Pittsfield Cemetery for a ceremony and includes veterans organizations, the Pittsfield High marching band and the Taconic High drum line, local and state officials, the Police Department honor guard, Fire Department, Boy Scouts and Girl Scouts, and Pittsfield elementary children. Pittsfield Community Television (PCTV) will televise the ceremony on City Link 1303 and PCTV Select available at PCTV.org. Other options include Roku and Apple devices, and the PCTV Facebook page.
Monterey
Parade begins at 1 p.m. at Veterans Memorial Park. A ceremony will also be held at the park at 10:30 a.m.
Otis
A memorial service will be held on Monday at 12 Noon at the Town Library's Veterans Memorial. Prior to the ceremony, a small group of veterans will visit each cemetery in Otis and Sandisfield to pay respects.
Richmond
Marchers will assemble at the Richmond Firehouse at 7:30 a.m. and march up Route 41 to the school, where a selectman will offer remarks at about 8 a.m. followed by a wreath-laying ceremony. The school's marching band and the third-grade singers will perform at the school.
Sheffield
March begins from the village green in Ashley Falls at 8 a.m. with observances at the Clayton Road cemetery; refreshments to follow at Trinity United Methodist Church.
Stockbridge
Benediction, taps, firearms salute for veterans at the town and St. Joseph's cemeteries begin at 11am  which will include a riverside ceremony for those who died at sea at 10:45; The parade steps off at 12:15 from Town Hall. Ceremonies will conclude at old Town Hall at 12:45pm with guest and student speakers and music by the Berkshire Hillsmen. All veterans encouraged to march.
West Stockbridge
No parade this year. Wreath layings and tributes will be held at the Williams River Bridge at 8:30 a.m. A ceremony will follow at 9 at the Town Hall War Memorial
Williamstown
The parade begins at 11 a.m. at the bottom of Spring Street and proceeds to Field Park (at the intersection of Routes 2 and 7)
(Some information obtained in this article courtesy of www.iberkshires.com)
LOOK: What 25 Historic Battlefields Look Like Today
The following is an examination of what became of the sites where America waged its most important and often most brutal campaigns of war. Using a variety of sources,
Stacker
selected 25 historically significant battlefields in American history. For each one, Stacker investigated what happened there when the battles raged as well as what became of those hallowed grounds when the fighting stopped.
These are the battlefields that defined the United States military's journey from upstart Colonial rebels to an invincible global war machine.