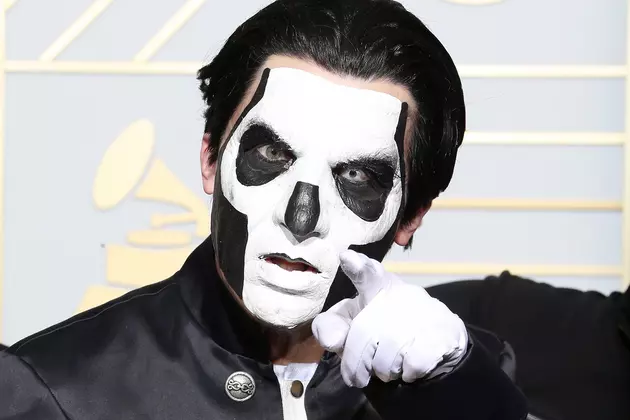 Ghost Will Be 'Even More Theatrical' Now Identities Are Known
Frederick M. Brown, Getty Images
Ghost leader Tobias Forge rejected the suggestion that his band would present a more straightforward version of itself onstage now that his identity had been revealed, saying he was planning "the exact opposite" result.
His name, and those of his former colleagues, were revealed during the process of a legal dispute last year. Since then, Forge has been working on the band's fourth album, which is nearing completion.
"The original idea of being anonymous – it was a great, naive idea on paper in 2008, not knowing to what degree we'd be touring or to what extent this was going to be a professional operation," Forge told Revolver in a new interview. "That regimen is very hard to live by. What I hadn't foreseen was the fans and their willingness to embrace that and play along. I guess that's the whole thing with showbiz and magic tricks: It's like you have a silent agreement with your audience."
Forge admitted he'd doubted the concept of anonymity since they started touring, noting, "It ha[d] been in my mind that this doesn't really hold water." Asked if the identity revelations meant a paring-down of the band's performances, he replied, "No, no, no. The exact opposite, actually. The plan is for it to be even more theatrical and even more dressed up."
He argued that Ghost had "already become more of an entity on its own." "As long as I don't go onstage completely normal and then jump into character onstage, I assume that most fans would be able to accept me as the creator," he said. "I can comment on the work the same way a director would on his movie." He also confronted the suggestion that the change would affect the band's popularity, asking, "Why would this be so strange that any knowledge about its true identity would tarnish it to the point where you cannot like it anymore?"
Forge revealed that the upcoming Ghost album includes songs titled "Rats," "Faith," "Life Eternal" and "Danse Macabre." "It is loosely themed around the concept of death and doom," he noted. "It's a themed album around medieval times, but it's definitely clinging onto a lot of very current things. … There's a lot that you would recognize today in online mannerisms. In many ways, we've gone back a few steps because now it's closer to how it was back in the old days when people were standing at the square and all of a sudden, it's like in Monty Python's Life of Brian: 'Stone him! Ra! Ra! Ra!' Public trials are very unsupervised and extremely swift and speak to the most primordial parts of us."
When Ghost return for a series of summer festival dates, headed up with a Las Vegas show on April 20, Forge will appear as Papa Emeritus Zero, the latest reincarnation of his character.