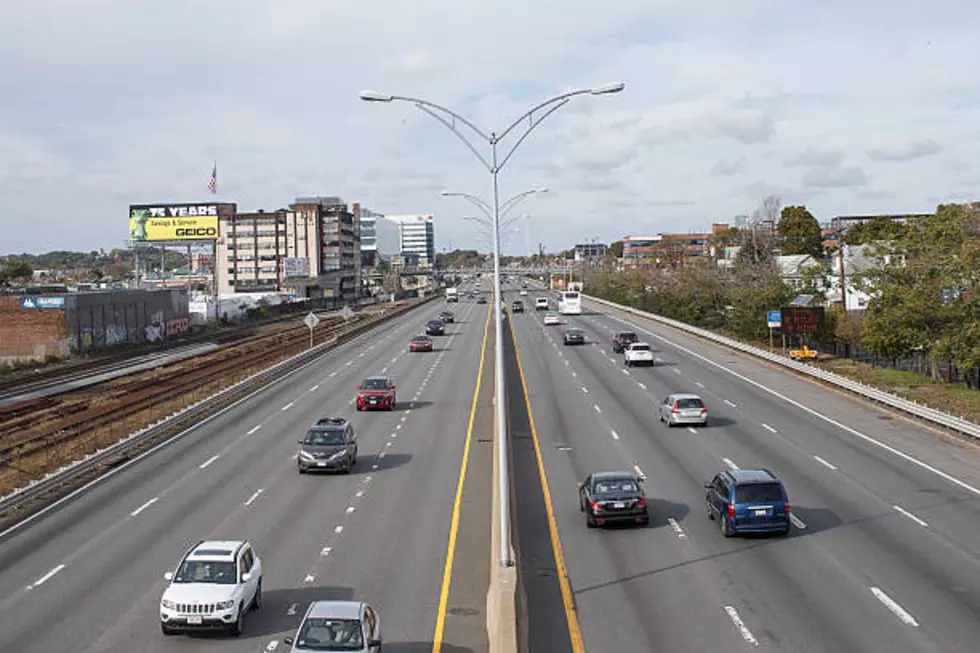 Will We Ever STOP Paying Tolls On The Massachusetts Turnpike?
Boston Globe via Getty Images
If there is one thing I abhor when driving is when I'm on a specific road and a toll needs to be paid, it is done with trepidation as this is a TRUE waste of my money. The elimination of toll booths makes the situation linger as you dug into your pocket and the dirty deed was done. These days, you have to wait for an envelope and mail what is owed by a specific date which makes things more cumbersome in nature. When I visit my ol' hometown, I REFUSE to pay a one way $17 toll to cross the George Washington Bridge, therefore public transportation is my alternative, but that is NOT the case here in The bay State where I need my vehicle to go from point A and point B. I'll guarantee you one thing: These days, I-90 is NOT in my travel itinerary.
Let's educate you on how this debacle came about over 7 decades ago. Did you know  The Massachusetts Turnpike was built back in 1952. The prospective highway was financed with bonds and paid off with tolls over 30 years. (aka 1982). Here it is, 2023 as there are no toll collectors (thank modern technology in the loss of all these state jobs) however, drivers STILL have to shell out money that could be in their pockets to drive anywhere east or west in that 138 mile span that begins in the beautiful Berkshire village of West Stockbridge and the capital city of Boston.
In a recent interview with CBS4 Boston (WBZ-TV), Worcester Republican State Representative Peter Durant has been adamant in eliminating tolls, but he is not totally optimistic this will come to fruition in the near future:
"And the fact of the matter is, if we are being honest with ourselves, these tolls aren't going away any time soon. We have the money available that would backfill any lost revenue from there. I think we need to get rid of those tolls and keep the promises that we made."
Durant has an alternative to alleviate this ongoing problem, but will this idea catch on at Beantown's State House?
"If we were to be equitable, we would add tolls on the north-south routes, so 93 north and south. There's a lot of traffic that comes up from Braintree in the morning. That's, as we all know is a very congested roadway, that needs a lot of work".
That to me sounds like a plan, but the all-mighty dollar continues to rule the roost on this delicate subject: Tolls on Interstate 90, the tunnels and the Tobin Bridge brought in over $412 million in revenue last year. That is one BIG chunk of change.
If the toll money from the Pike were not coming in, think about this in general: Where would this money come from? Answer: OUR pockets OR wallets. For starters, we have the dreaded gas tax, that every driver pays into. remember that new infrastructure bill which is scheduled to bring in $5 billion over 5 years for roads and bridges. And if you recall, the millionaire tax as some of that revenue is supposed to go to roads and bridges.
Lawmakers on Beacon Hill haven't budged on the tolls. They are using a loophole to keep them in place. Their ultimate promise was to make the highway a FREE road, but only if the Pike was in good repair. In a recent interview with WBZ-TV, Mass DOT Highway Administrator Jonathan Gulliver had this to say regarding the current condition of I-90:
"Back in 2016-1017, the secretary made a determination that the road was not in a state of good repair and that the tolls would continue. So, that's where we are now. The Pike and its overpasses actually need quite a bit of expensive repairs. Regardless of how much money we get, there always is a big gap, in terms of what people want transportation to be and what we currently provide,"
But it all seems so UNFAIR! Why should your toll money pay for projects on other highways and how come only drivers on the Mass Pike pay tolls? Now I can feel their pain in more ways than one!
First, drivers should be aware of a rule that toll money can NOT be spent on other roads, only on other toll roads, like the current Sumner Tunnel project. Second, all other Massachusetts highways were built with some federal money. The law says those roads aren't allowed to have tolls. Peter Finch said it best in the 1976 film "Network": "I'm MAD and I'm NOT gonna take it anymore!"
BOTTOM LINE: We are stuck with this extra expense as the Massachusetts Turnpike tolls are NOT going away anytime soon. My suggestion: Break out your Bay State map and find alternate means. I already have as a slice of Americana that awaits me on each road trip within the Bay State. Scenic routes RULE! Even though the trip is longer, at least I can buy that much needed cup of coffee to accompany my journey, instead of  mailing the equivalent back to Boston. NO TOLLS is a good thing!
(Some information obtained in this article, courtesy of CBS4-Boston, WBZ-TV)
See the Must-Drive Roads in Every State